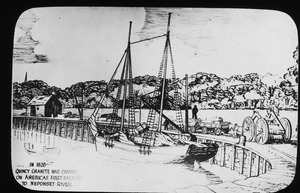 Title
Schooners at Neponset River
Creator
Cutler, Wolcott, 1891-1965
Type of Resource
image
Abstract/Description
Date from accompanying materials: Before 1925
Date supplied by cataloger.
Courtesy of Mgr. D'Angelo of Ships Haven Restaurant
Title from materials accompanying item.
Reverend Cutler was rector at St. John's Church from 1924 to 1959 and most likely assembled this collection during that time.
Schooners at Neponset River, end of Quincy granite railroad. A wall painting by Marjorie Goodspread White in the Ships Haven Restaurant in Quincy. This railroad conveyed the granite for Bunker Hill Monument. The Boston Custom House. Minot's Ledge Lighthouse and the Charlestown State Prison. It was constructed between April and October 1826, by designer and builder, Gridley Bryant of Scituate. The railway included the world's first turntable also invented by Bryant.
Subjects and keywords
Sailing ships
Granite quarrying
Shipping
Rivers
Bunker Hill Monument (Boston, Mass.)
Format
Photographs
Lantern slides
Rights
This work is licensed for use under a Creative Commons Attribution Non-Commercial No Derivatives License (CC BY-NC-ND).
Rights status not evaluated.
Permanent URL
Identifier
Local other: CHA-32-E2