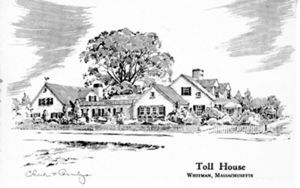 Title
Toll House Postcard
Type of Resource
image
Abstract/Description
undated
Ruth Graves Wakefield's Toll House, in Whitman, Massachusetts, is pictured on a postcard. After graduating from the Normal School's Department of Household Arts in 1924, Ruth Graves Wakefield worked as a dietician and food lecturer. In 1930, she published Ruth Wakefield's Recipes: Tried and True, which went through 39 printings. One of her recipes was for the tollhouse chocolate crunch cookie, named for the Toll House Inn, a restaurant and boarding house she owned with her husband, Ken Wakefield. To this day, Nestlé prints both her recipe and the Toll House story on the back of its chocolate chip packages. In 1969, she donated her cookbook collection to the college.
Subjects and keywords
Alumna
Format
Cards
Postcards
Language
English
Rights
Contact host institution for more information.
Publication of images from Framingham State University Archives is subject to approval and may be under copyright. Publication includes the following media: print, electronic/digital, videotape, film or microfilm. Written permission must be obtained in advance of publication by contacting the Framingham State University Archives at
Archives@Framingham.edu
. Fees may be assessed and charged by FSU Archives for reproduction and use.
Permanent URL
Identifier
Local other: FSU_GB_0102